AiR 2
Unknown
: mysql_query(): The mysql extension is deprecated and will be removed in the future: use mysqli or PDO instead in
/home/ahujapaw0ld/domains/ahujapaworld.com/public_html/catalog/view/theme/default/template/product/product.tpl
on line
26Warning
: mysql_query(): Access denied for user ''@'localhost' (using password: NO) in
/home/ahujapaw0ld/domains/ahujapaworld.com/public_html/catalog/view/theme/default/template/product/product.tpl
on line
26Warning
: mysql_query(): A link to the server could not be established in
/home/ahujapaw0ld/domains/ahujapaworld.com/public_html/catalog/view/theme/default/template/product/product.tpl
on line
26Warning
: mysql_fetch_array() expects parameter 1 to be resource, boolean given in
/home/ahujapaw0ld/domains/ahujapaworld.com/public_html/catalog/view/theme/default/template/product/product.tpl
on line
28Unknown
: mysql_query(): The mysql extension is deprecated and will be removed in the future: use mysqli or PDO instead in
/home/ahujapaw0ld/domains/ahujapaworld.com/public_html/catalog/view/theme/default/template/product/product.tpl
on line
32Warning
: mysql_query(): Access denied for user ''@'localhost' (using password: NO) in
/home/ahujapaw0ld/domains/ahujapaworld.com/public_html/catalog/view/theme/default/template/product/product.tpl
on line
32Warning
: mysql_query(): A link to the server could not be established in
/home/ahujapaw0ld/domains/ahujapaworld.com/public_html/catalog/view/theme/default/template/product/product.tpl
on line
32Warning
: mysql_fetch_array() expects parameter 1 to be resource, boolean given in
/home/ahujapaw0ld/domains/ahujapaworld.com/public_html/catalog/view/theme/default/template/product/product.tpl
on line
32Unknown
: mysql_query(): The mysql extension is deprecated and will be removed in the future: use mysqli or PDO instead in
/home/ahujapaw0ld/domains/ahujapaworld.com/public_html/catalog/view/theme/default/template/product/product.tpl
on line
36Warning
: mysql_query(): Access denied for user ''@'localhost' (using password: NO) in
/home/ahujapaw0ld/domains/ahujapaworld.com/public_html/catalog/view/theme/default/template/product/product.tpl
on line
36Warning
: mysql_query(): A link to the server could not be established in
/home/ahujapaw0ld/domains/ahujapaworld.com/public_html/catalog/view/theme/default/template/product/product.tpl
on line
36Warning
: mysql_fetch_array() expects parameter 1 to be resource, boolean given in
/home/ahujapaw0ld/domains/ahujapaworld.com/public_html/catalog/view/theme/default/template/product/product.tpl
on line
36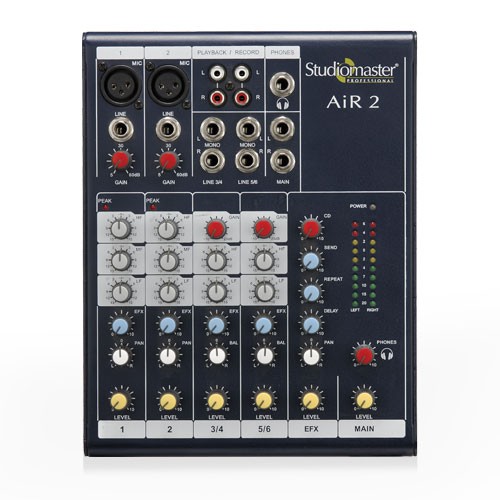 Price: INR6,185.00
Ex Tax: INR6,185.00
Unknown
: mysql_query(): The mysql extension is deprecated and will be removed in the future: use mysqli or PDO instead in
/home/ahujapaw0ld/domains/ahujapaworld.com/public_html/catalog/view/theme/default/template/product/product.tpl
on line
194Warning
: mysql_query(): Access denied for user ''@'localhost' (using password: NO) in
/home/ahujapaw0ld/domains/ahujapaworld.com/public_html/catalog/view/theme/default/template/product/product.tpl
on line
194Warning
: mysql_query(): A link to the server could not be established in
/home/ahujapaw0ld/domains/ahujapaworld.com/public_html/catalog/view/theme/default/template/product/product.tpl
on line
194Warning
: mysql_fetch_array() expects parameter 1 to be resource, boolean given in
/home/ahujapaw0ld/domains/ahujapaworld.com/public_html/catalog/view/theme/default/template/product/product.tpl
on line
196
AiR 2
The Studiomaster Professional Air2 & AiR4 are professional compact mixers designed to fit your needs,
as well as your workspace. Its features include balanced Mic /Line inputs as well as dedicated
stereo inputs, accurate 3 band EQ's, on-board delay EFX, RCA CD in & Rec out, Headphone
output with level control etc. With its abundant features these mixers are ideal for application
ranging from small PA set-ups to broadcasters & home studios.
Features
• Number Of Inputs : 2 Mono MIC/Line + 2 Stereo
• Gain with 3 Band EQ control each channel.
• Delay EFX on board with individual channel control.
• Balanced ¼" Jack Master outputs.
• Rotary control knobs per channel.
• Dual 10 Segment L/R LED meter for master level.
• L/R Pan Pot & Clip LED per Channel.
• Headphone output with control.
• Stereo RCA CD In & Out with Control.
Specifications
Models
AIR 2
Input Sensitivity
-60dBm ~ -40dBm
Nominal Input Level
MIC (-60dBm)
Line (-40dBm)
Effect (-20dB)
Tape In (-10dB)
Nominal Ouput Level
Effect Send(-10dBm)
Output Voltage
4V (Max)
Signal / Noise ratio
>85dB
THD (1Khz)

<0.03%

Frequency Response
20Hz-20KHz ±3dB
Headphone
7V/220 Ohms
EQ
High ±15dB @ 12KHz
Mid ±15dB @ 2.5KHz
Low ±15dB @ 80Hz
Power Supply
AC 240V 50/60Hz
Copyright @ Ahuja General Radio & Electric Co. 2012 All Rights Reserved